Want to get some ideas on Christmas gifts for adults? Here at Moyustore. We are very honored to be able to help our users find the best gifts for all occasions, whether they need help finding the best Valentine's Day gifts, birthday gift ideas or Christmas gifts. So whether you're looking for the latest and best gifts or need something thoughtful and unique for everyone on your Christmas shopping list without totally blowing your budget, we've got you.
For Christmas, a good atmosphere is indispensable. And the Mr Gort can create a warm and comfortable atmosphere for you at Christmas. This is a Mecha with additional working light function.It is ideal and creative gift to surprise friends, families, After this mech is assembled, it will become a working light. In addition to this, it also has the astrological sign. It is so great and pretty to show on the table/showcase/shelf/nightstand and make your home more beautiful. 
Next, introduce one of our best-selling product-Fighting Shooter, You may even have watched its unboxing video on YouTube. It has a cool outlook and attractive appearance
In the world of Moyu, he is known for being smart, reliable, hardworking, dedicated and stubborn. It is the representative of all good qualities. Who can not like such a nice and brave hero? As a gift, no matter who you want to give it to, they will feel very happy the moment they unbox the package.
Everyone loves the cool outlook of the mecha, what could be cooler than this, the answer is definitely yes, you can only see such product in moyu, this is a mecha with watch holder function. You can not only use it as a decoration, but it can also become your favorite watch holder.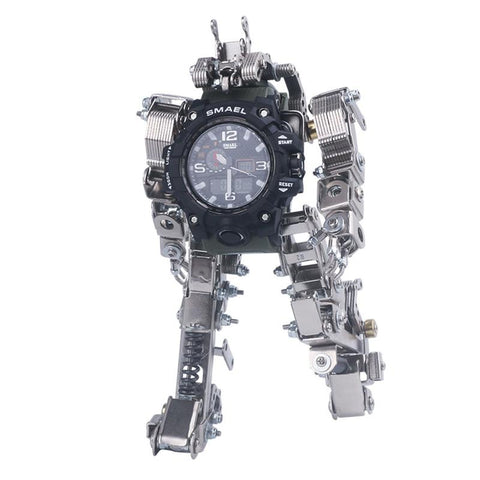 As you can see at first glance, he is brave and mighty. He is the winner of the gold belt in the boxing battle.Compared with all kinds of heavy weapons, these mechas prefer to use close combat to win a victory.In addition, this mecha has a built-in Bluetooth speaker and
you can also use his head and shoulders as a mobile phone holder. Believe it or not, this will soon become your favorite mech. No one will not like such an excellent product.
No one would say no to such a mecha, under the exquisite outlook, It can also be used as a LED digital clock. Different numbers are engraved on the transparent acrylic, and then the digital effect is refracted by the bright RGB lamp, which simulates the display effect of the fluorescent tube glow clock. Each number produces different gradient colors, forming rainbow colors and various aurora color effects. Not only a decoration, this mecha can remind him of the importance of time. Receiving such a gift on Christmas Eve will definitely become the best gift he receives in the year.
Everyone has dream, Some people wanted to be scientists, some were doctors and teachers, but astronauts are definitely the one that most people want to be.Astronauts are gleaming existences in human history, exploring the mysteries of the universe and the unknown realm of mankind,When a young child mentioned his dream, it was: "I want to be an astronaut when I grow up." And when the dream fades, we finally become busy adults, and it seems to become mediocre. However, it is not. Our ideal of becoming astronauts is still moving forward. Everyone has been exploring their own life since birth, and the road of life is full of problems and unknowns. We need to keep learning, expand our knowledge reserves, and become braver, to compete for face-to-face with difficulties and unknowns. Overcome thorns and thorns, ride the wind and waves. Become a hero who dominates your own life and has a shining life. Everyone can be an astronaut.
No one doesn't love heroes and doesn't want to be a hero. These mechas are designed based on the most famous heroes in ancient China! It includes four generals, Lu Bu, Zhao Yun, Guan Yu, and Zhang Fei. Their legendary deeds have inspired people of different ages and generations. If he is interested in history, then you have chosen the right gift.This gift is tailor-made for him. This is not just a simple mecha, it also has a historical memorial significance, reminding us to be passionate, work hard, and continue to refuel to achieve success!
Chaser Hunter is the hunter in the world of moyu, the top existence, he looks down on everything, as long as the prey that he hunts can not escape.His head is a Bluetooth speaker, you can connect your mobile phone via Bluetooth to play music. You can experience the thrill of hunting at firsthand! In addition, you can also assemble by using your creativity, broaden Your Mind: You can not only assemble it into a magnetic hunter shape, but you can also create other unique shapes if possible.
If you want to choose a gift for a woman, then congratulations, you have come to the right place. This mech is very small and easy to assemble. Each parts are very exquisite, very suitable for women to assemble. And it also has a music box function, after this mech is assemble,you can hear the beautiful sound from it! There are four options for you to choose from.
After seeing so many mechas, is it difficult to decide which one you want? It's okay. We will help you make the choice. Now we provide mecha blind boxes. It depends on your luck. After you place an order, we will randomly send you a Mecha. The styles are all our latest models. You may get a mecha that is more valuable than the blind box, so hurry up!