DIY 3D Metal Fighting Shooter Mecha Assembly Model Kit 
Shipping notice: this mecha is in stock. all the orders will be shipped out within 1 working day. any problems please contact service@moyustore.com

Features:

✪ Story Origins: The story takes place on a peaceful Moon. The astronaut is held hostage by a monster and cannot perform the mission, so he sends a distress signal to the Earth headquarters. So the headquarters sent Taurus Berserker mecha and Hunter mecha to rescue him. This plan was called MY001.

Taurus Berserker is known for being smart, reliable, hardworking, dedicated, and stubborn. Equipped with 2 rifles, he is good at attacking the enemy at close range and giving the enemy a fatal blow. Once provoked, he will be terrible and continue to fight for hours and hours, using powerful weapons. He inspires others to be more independent and fearless in everything they do. HUNTER is very smart, good at collecting information and planning the latest combat routes, which can help the Taurus Berserker win this mecha battle in the fastest time.
astronaut:buy it here
Hunter: Buy it here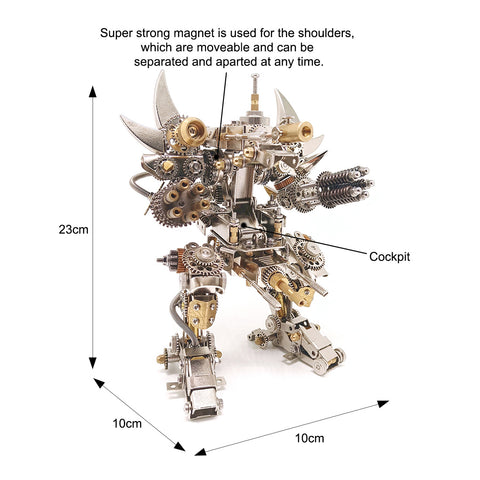 ✪ Challengeable Puzzle: After assembly, the mini size is about 23*10*10cm.It takes about 8 hours or so to build this mecha. Just connect by screws, bolts and nuts, and you will build up an amazing and gorgeous mecha. Some magnets are designed to connect the shoulder, which is movable and can be taken aparted at any time. It's said, the sharp shoulder will fly away into two sides, attacting the the potential enemies in mecha battles.
✪ Suitable for 1/36 Figure: Our designer designs a cockpit. You put a 1/36 scale figure inside. Seated in the cockpit, the pilot of the mecha has a lot of controls at his fingertips. Just image are the pilot, you can experience the hard core armor battle from the first perspective of the cockpit.

✪ Brain Development:  It's a unique mechanical 3D metal mecha, creating a hand-held miracle play-world for kids or adults, full of entertainments and knowledge for all ages. By letting children assemble this product by hand, not only does they exercise their hands-on ability and creativity, but also allows children to enjoy the joy of assembling.
✪ You can use existing parts to DIY other shapes according to your personal ideas to create your own unique model. Amazing details and wonderful DIY experience.

✪ Perfect Gift Ideas: It is a special choice for your friends, family and children as a Christmas/Thanksgiving/birthday Gift. And animie lovers will also be interested in it too. It's a creative decor on the desk or coffee shop, or office etc.

✪ Notice: 
1. The edges of the parts are sharp. Please do not play with infants and young children to avoid injury.
2. Suitable for people over 14 years old or children under the age of 14 need to play with their parents
3. Slight scratches on the surface of stainless steel parts are normal and do not affect the overall appearance. Thanks for your understanding)

4. Don't need glue for assembling, according to the assembly drawing.

Specifications:

.Color: As Shown
.Material: Stainless Steel + Iron + Copper
.Product Dimensions: 18 x 12 x 18cm
.Product Weight: 1100g
.Package Dimensions: 28 x 17 x 19.5cm
.Package Weight: 1500g
.Packing: Storage Box + Air Column Bag + Carton Box

Package Content:

.1 x Model Kit
.1 x Screwdriver
.1 x Needle Nose Pliers
.1 x Mini Sleeve
We ship all over the world and provide door to door service. You can enjoy Free Shipping service on moyustore.com
How will my order be delivered?
All orders are shipped via the Register Airmail, which takes about 10 to 25 business days to most countries in the world. If you want it urgently and prefer fast shipping, please contact us and pay for the extra shipping fee.
 - for customers in USA, Canada, Australia, it takes about 7 to 14 business days.
  - For customers in United Kingdom, France, Germany, Italy, Spain, and most other Europe Countries, it may take 8 to 20 business days.
  - For customers in South America, it may take 15 to 30 business days.
  - For other countries, it may take 15 to 25 business days.
When will my order be shipped?
Normally, the processing time is 1-3 business days after your payment. The tracking number will be provided after that. Usually, the online shipping news will be a little delay.
How can i know my parcel status?
Totally, you will receive 2 emails to know your order status. For the first email, it is a confirmation email after you placed an order. For the second emai, it is a shipping notification after your order has been shipped. The second one will contain the tracking information and some instructions on how to track your parcel.